"Being in the presence of Judith Lavigne Parr Simmons makes you realize the Light that you are."
Pat Zarlengo, Divine Science Minister
Judith Parr "Being in the presence of Judith Lavigne Parr Simmons makes you realize the Light that you are."
Pat Zarlengo, Divine Science Minister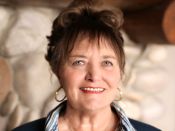 This insightful compassionate woman brings out the best in you as you discover qualities in yourself that you never dreamed of. Each of her works compels you toward your greater potential. Her remarkable background gives you clues as to what she is about. As a child she was being groomed to go into medicine, yet at the same time she began public singing at a very young age (on radio WMBD in Peoria, Illinois). Dr. Judith's interesting background has included that of professional singing and French horn playing. She has been a public school elementary and Junior High, vocal and band teacher and has conducted various bands and orchestras, and even children's church choirs. She was also a guidance counselor and administrator. Judith is currently a business woman, counselor, public speaker, composer, and author of numerous books and scripts.
"Judith LaVigne Parr Simmons is 200 years ahead of this time in her advanced knowledge, wisdom and comprehension of the human potential."
John Baranway – Denver, Colorado
In 2005 Judith was given Lifetime Recognition in Manchester's
"Who's Who" of Professional Women's Writers and Publishers
She has also been recognized as:
The American Biographical Institute's "Woman of the Year" 2006
Judith Parr Simmons' Dry Gulch is the award-winning finalist in the western category of the
National Best Book 2009 Awards through USA Book News.
Continuing her interest in medicine, she carries on personal study and has taught classes in meditation, holistic health, hands-on healing techniques, and ancient and Eastern religions. Judith Parr Simmons combines her humor, wit, and compassionate personality and lovely singing voice in presentations which include such topics as: love and forgiveness and the thought processes which parallel either wellness or disease. Judith's presentations have brought her before diversified groups such as: Masons, school children, traditional and New Thought churches, holistic health groups, UFO conferences and even philosophical groups. She brings the audiences new thoughts to ponder, as well as solutions to challenges in her hope to stretch peoples' beliefs in themselves. She was a frequent guest on the Littleton, Colorado TV program, "Facets of the Future," and has been a guest speaker on talk radio. Judith has produced numerous CD's & cassettes on various subjects, and is the author of the following published books: THE SUMMER WIND AND OTHER GEMS OF WISDOM, MEDITATIONS FROM MY GARDEN, MANY AVENUES OF HEALING, I TALK WITH THE TREES, WISE WOMAN: WHISPERINGS OF THE ANGELS, THE UPWARD CLIMB (an epic poem), EARTH MOTHER, CHIEF WANNAMAKEE'S WORDS OF WARNING, and a western, DRY GULCH & DRY GULCH II – JUSTICE PREVAILS.
"Your life and teaching is an inspiration to so many."
Neta Kaye Stokely – Tucson, Arizona
"You are simply stimulating, thought absorbing, and completely in tune with what I have believed all my life."
Reverend Norma A Hawkins – Glendale, California
Dr. Simmons was born and raised in Illinois and lived in California, Hawaii, Florida, Colorado, and Arizona. Travel has always been an important interest and includes travel in North, South, and Central America, Europe, the Pacific, India, and northern Africa. Judith's husband, Tom Simmons, is a retired aeronautical engineer. They are co-authoring books and scripts and live in a rural setting.
"I am profoundly grateful to you for helping me not only to deal with my comatose father, but to unconditionally love him as he floats between this world and the next." – Richard Rand – Colorado
For decades Judith had up to 40 peacocks strolling the grounds at the first Peacock Publishing site in Colorado. They often followed her around looking for treats. The white peacock is so unique. Take a fresh moment in time to appreciate it's peace and beauty.